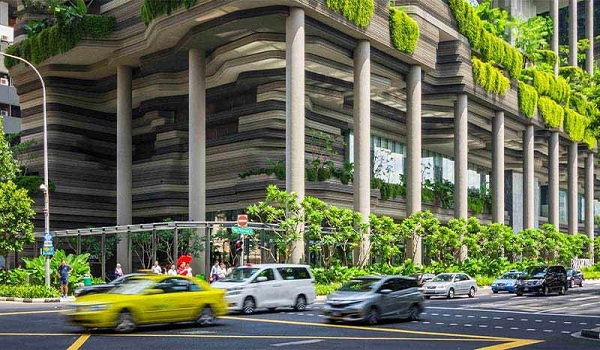 The real estate industry has greatly added to carbon emissions and emits 30% of greenhouse gas. There is now a need for greener alternatives in real estate construction. The world is becoming more careful about its impact on the earth.
While discussing subjects such as green living, we do not bring up the real estate market. The story is changing now, and more and more green options are being sought. People are becoming more sensitive toward their impact on the earth. Both builders and buyers are now becoming more interested in eco-friendly real estate.
The homes being built now use a lot of eco-friendly measures and green materials. Recycled materials are being used more now. The goal of these is to bring down the effects that the housing industry has on the environment. Buyers know that there are a lot of economic and environmental benefits to having a green home.
Making these homes means more than just making them energy efficient. They also make use of materials that are local. The homes take into account the ecology of the area, and building these homes uses less electricity, water, and materials. A lot of steps are being used to develop greener homes in the country. These are developed using modern science.
Here are some of the green alternatives that are being used in the building industry:
Carbon-Neutral Buildings - These are also called net-zero buildings. The energy used by these is the same as what they give out. The carbon emissions of the buildings are low, and they use less water. They also make low amounts of waste. The buildings have a low impact on the earth.
Climate-Resilient Buildings - These buildings are built to be weather resistant. There are government policies that boost the construction of these projects. Buildings that can withstand all types of weather can last longer. These help in cost savings, and there is also a low amount of waste that is generated.
Distributed Energy Systems - These buildings use sensors and meters. These monitor the heating, cooling, and lighting in the buildings. They result in lower running costs and higher efficiency.
Eco-friendly and Recycled Materials - Builders use many earth-friendly and recycled materials in their structures. The structures developed are eco-friendly. Some of these are bamboo, recycled plastic, and engineered wood. Energy-efficient materials are being used in modern buildings. Recycled materials are also being used a lot in the real estate industry.
Green Energy - Green energy sources, such as solar and wind, are being used a lot today. Modern buildings use these sources. The energy produced in this way helps to cut down on the use of fossil fuels. These buildings have a low carbon footprint.
There are a lot of certifications that can be got for green buildings, and some of these are:
The Certification for Leadership in Energy and Environmental Design - LEED is the most well-known grading system for green buildings. There are points to get the different levels of certification. The basic level is at 26 to 32 points. The silver level is at 33 to 38 points. The gold level is at 39 to 51 points. The platinum is 52 points or more. The Brigade Group aims to get this for its projects. Brigade Tech Gardens is a project that has got LEED.
Green Star Certification - The certification is given after an independent inspection by a third party. It is only given after an evaluation by a team of specialists. Buildings are rated based on many factors. All projects registered must be rated within two years of completion. It is an online assessment that is based on the documents that have been submitted. It is awarded by the GBCA.
Excellence in Design for Greater Efficiencies Certification - The EDGE certification of green buildings is used in over 100 countries. It looks at the efficiency of the build. The usage of energy, water, and materials is optimized. It is recognized by the World Bank Group.
The Brigade Group aims to build projects that have a low impact on the planet. A fine example of this environment-friendly way of thinking is the Brigade Valencia project at Hosur Road. The elegant project has been carefully designed. It has a low carbon footprint and is light on the earth.
The energy-efficient homes are the ultimate living spaces. Brigade Valencia is on a vast expanse of 25 acres, which includes a lot of open green areas. The greenery of the area plays a role in cleaning up the air as well as providing a calm space.
The world is becoming more environmentally conscious. The group is keeping up with the trend. It believes in a green way of life, and is now using a lot of greener alternatives in real estate construction.