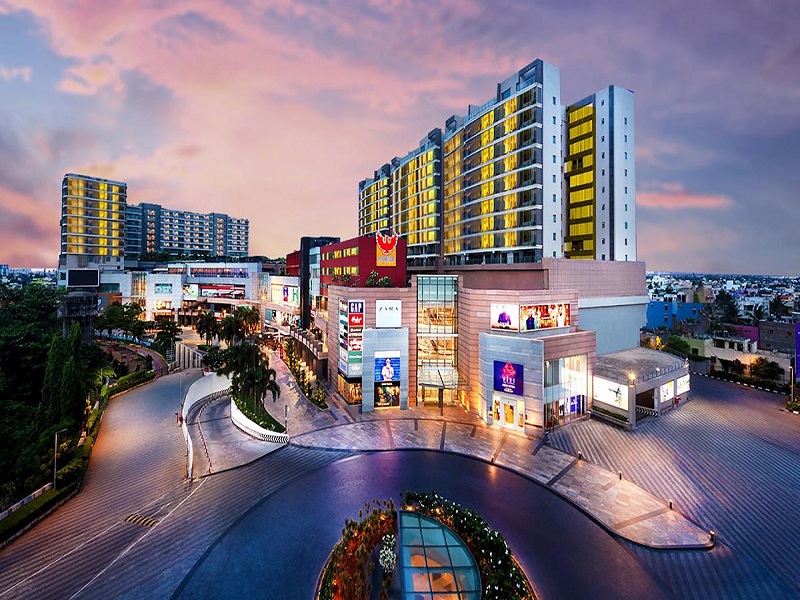 Shopping in Chennai is excellent because they undoubtedly have some best malls in the country. They sell major international brands besides offering the best cuisine and entertainment. There are many Malls in Chennai to experience the best lifestyle.
Some big Malls in Chennai are
Phoenix Market city
It is in the Velachery suburb of the city. It is over five levels, including the lower ground and the ground. The mall has an end-to-end shopping experience. It ranges from clothing to electronics and groceries. It has many brands like Allen Solly, Croma, Poorvika, Aldo, Adidas, and Manchester United.
There are several other quick bite outlets and fine dining restaurants. The interactive gaming zone at the mall caters to mind-boggling 4D effects. Get your clothes, accessories, and décor only if you can decide from which store to buy!
The entertainment segment of this mall is one of the best in the city. Entertain yourself in the game zone, and enjoy the thrill and fun.
Express Avenue Mall
It is a famous shopping center in Chennai built by the Indian Express Group. It is inside the historic Indian Express Estate. The mall houses the central gaming arcade in South India. It has around 150 luxury stores. It has a spacious area for car parking and a fantastic landscape.
The 8-screen theater at Escape Cinemas can accommodate 1600 movie buffs. The entertainment area serves as every gamer's paradise. It has the best world cuisines from Italy, China, and America. The mall has luxury and entertainment under the same roof. The mall is referred to as EA, and all the international and national brands have their stores here, like Swatch, Rado, and MAC.
If you crave entertainment, then involve yourself in the Pix 5D movies. You will also end up having a great time at Fun City. The gaming services here are top-notch. There is a Spa from O2, and you will have cuisine from various restaurants. The large and spacious food court is a favorite hangout among many people.
Ampa Skywalk Mall
It is the best Mall in Chennai, hosting some of the best clothing brands. The mall is the party house of fashionistas with a good blend of modern and traditional clothing labels. The mall has a seven-screen theater, a food court with international delights, and a gaming zone.
The most impressive sight is the 25 meters long skywalk. It extends from the ticket counters to the theatres. The mall's food court can seat about 650 people. It is the sought-after hangout venue for college students, families, couples, and even senior citizens.
Ampa Skywalk has many luxury brands like M&S, Adidas, and Rado. There are jewelry shops, and a Spa, all under the same roof.
Chennai Citi Centre
It is the most expensive mall in the city. It engages local and expatriate crowds in leisure time with entertainment and shopping sprees. It is centrally located and accessible from any corner of the city. The mall redefines your idea with a gamut of dining and recreational choices.
The mall features popular national and international brands such as Max, Indigo Nation, Cookie Man, and Helvetica. It promises you a great shopping experience. It has a particular indoor entertainment area for kids. It has a cricket zone for sports enthusiasts and a theater for movie lovers. The mall has a food court named La Marina which features best among others.
It has many tourist attractions like Marina Beach and the magnificent Santhome Basilica Church. The summer shopping carnival and other events offer great seasonal discounts and offers. The music gigs lure music fans from around the city. The fashion shows hosted by the mall attract crowds.
The mall is near Mariana Beach. The hub is a union of shopping, food, and entertainment under one roof. Make your way up to the top and catch a mesmerizing view of Marina Beach. It also provides a large play area for children to have fun.
Forum Vijaya Mall
Vadapalani is one of the oldest suburbs in Chennai. It has lots of temples, restaurants, and large bus depots. One of the big Malls in Chennai lodges more than a hundred stores. It occupies a four-storeyed building. When it comes to clothing, you can choose from a wide range of brands, such as Arrow, Puma, Wildcraft, Lifestyle, and Fab India.
The Multiplex has eight screens, and an IMAX screen will cater to real-time cravings. If you are visiting the mall, the well-designed gaming and entertainment zone for kids is where you can head. The 7D cinema and VR games at this shopping mall will keep you entertained for hours.
The third floor has a food court that has a seating capacity of 650 persons with counters. By offering premium parking facilities, ATMs, baby prams, free Wi-Fi, and many other modern amenities, the Vijaya Mall will have you coming back for more.
Find groceries at Hypermarket and accessories at Ayesha, Bata, and much more! Have a spa day to relax your muscles at Relax 'N' Go and get a makeover at Tony & Guy. With its long list of shops, Forum will keep boredom and monotony at bay.
Spencer Plaza
It is one of the big Malls in Chennai in the busiest area of the city. It is one of the oldest yet most visited malls of all time. It got renovated in 1985. It has eight floors of retailing splendor. The mall has everything from apparel to aesthetic equipment. Some popular brands within the plaza include Westside, Adidas, Titan, Pantaloons, and McDonald's.
The first floor of the building also houses the Sri Lanka Trade Center, where anyone can buy Ceylon goodies. It includes leather products and Ceylon tea. The mall is still, however, preferred for items like leather goods, silver jewelry, mobile covers, and cameras.
Gold Souk Grande Mall
If you love gold jewelry or are looking for the best place to grab irresistible deals, this should be your one-stop shop or a mall in Chennai. With five levels of retail therapy, the mall has the best designs from the latest collections at competitive prices. The mall houses branded stores for watches, men's clothing, and travel equipment just so that men are not left behind in shopping.
Grand Square
The Grand Square in Chennai is on Seetharam Nagar Main Road, Velachery. It is a short three-storied building with amenities like shopping, games, and restaurants. Shops such as Croma and Shoppers Stop are in this mall. The Grand Square provides a 5-screen PVR cinema theatre.
PVR Grand Square is the recognized and significant attraction of this mall. Consisting of a functional but limited food court, the mall provides a play area and a gaming arena. The mall is an affordable evening hangout spot with a lesser crowd than prominent malls in the city.
Brigade Valencia prelaunch apartment development project at Hosur Road, South Bangalore.